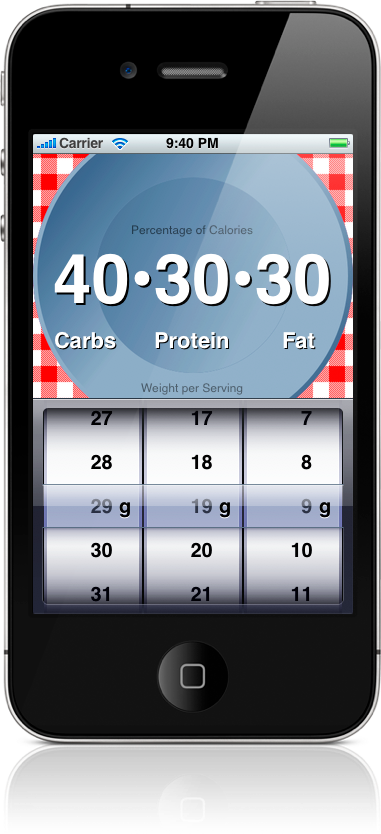 Many popular diets prescribe that the percentages of each meal's calories that come from carbohydrates, protein, and fat match a certain set of numbers.
Probably the most commonly-prescribed numbers are 40 percent of calories from carbohydrates, 30 percent from protein, and 30 percent from fat. Those numbers in turn inspired this app's name (although the author would choose something easier to type — and to google — if he had to do it over again).
Although pretty much every prepared food item sold in pretty much every industrialized country in the world features the number of grams of each of the three macronutrients in a serving (those would be, once again, carbohydrates, protein, and fat), it's a bit tricky to convert these into percentages — especially in your head.
With this app on your device, it's a simple matter of dialing in the number of grams (which can be done single-handedly) and reading off the percentages. (If your diet doesn't count dietary fiber as a carbohydrate, there's one more step, which is to turn back the carbohydrate dial one notch for each gram of fiber).
If you're combining a couple of major ingredients into a meal, you can dial in the most calorific food first, and then add in each lighter ingredient by simply dialing up one notch per gram for each dial. Using this technique you can even dial in an entire day's worth of meals.
Best of all this app is free! As always, consult your doctor before starting on any new diet.
Download it from the App Store℠ or visit the support page for more information.
If you find yourself:
annoyed by advertisements
interested in supporting the author's gadget habit
needing to add up the total calories in a meal
needing to add up the total calories from fat, protein, and/or carbohydrates in a meal
…then please consider purchasing 40•30•30+. The Plus version dispenses with the Free version's ad banner and replaces it with a "total calories" calculation. You also see the number of calories supplied by each of the macronutrients in your meal.
As in the Free version, you get to choose whether to use rule-of-thumb or scientific values — for each calculation separately. So your total calories value can closely match what's on the food's label, while your percentages will track your diet books.
Best of all this app is cheap! Specifically it's as cheap as the App Store will let me make it without making it free. For US customers, that means it's just 99¢.
Apple and the Apple logo are trademarks of Apple Inc., registered in the U.S. and other countries. Apple Inc. App Store is a service mark of Apple Inc.